The current page: Home - Phosgene Route Products Phosgene Route Products
Dimethyl Carbonate(DMC)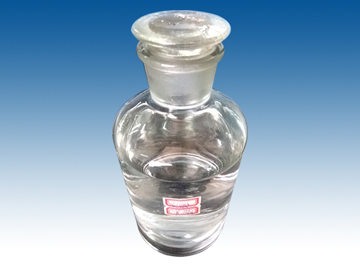 Dimethyl Carbonate(DMC)
Synonyms: Methyl carbonate
CAS No.: 616-38-6
Molecular Formula: C3H6O3
Properties:It is a kind of colorless liquid and can be miscible with almost all the organic solvent,such as alcohol,ketone,ester etc.And it is lightly soluble in water.
Specification:
Item

Grade Priority

Grade Electronic

Grade One

Grade Two

Purity,wt%≥

99.995

99.99

99.9

99.5

Moisture,wt%≤

0.005

0.01

0.02

0.02

Methanol and ethanol content,wt%≤

0.002

0.003

0.01

0.02

Density(20℃)g/cm³

1.071±0.05

Colour ≤

5

5

5

10
Applications:
1.It is a good kind of methylation agent,carbonylation agent,hydroxyl methylation agent and methoxy agent with active chemical properties.
2.As an organic synthesis intermediates,it is widely used in the solvent of painting,coating and adhesive industries.
3.It can be substitution of ethyl acetate,butyl acetate,acetone,butanone,
methylbenzene, xylene and some else traditional solvent.
4.It also can be gasoline additive,high-energy battery electrolytes and water treatment agent.
5.It is a green chemical product ,which can be good substitutions of some toxic chemicals such as phosgene,dimethyl sulfate and methylclhlorofonmate etc in Polycarbonate,pharmaceutical ,pesticide,fragrances and lubricating oil industries.
Package: 200+/-0.5kg could be packed in iron drum and also can be loaded in ISO TANK.
Storage: It must be stored in a cool,ventilated and dry place.